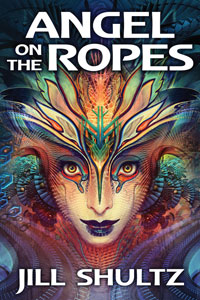 Download this 1.2MB web-ready image
Click here for the hi-res print version
of the cover (43.6 MB TIFF)
For Book Reviewers
Thank you for your interest in Angel on the Ropes. If you need any information that isn't provided here, please contact the author.
Short synopsis (22 words): Dazzling trapezist Amandine Sand leads a perilous double life. Will her secret--and her choices--save her planet or ruin it?
Angel on the Ropes sell sheet: a one-page PDF with a longer synopsis, blurbs, publication and distribution details for all editions, and contact info.
Author bio (plus a list of strange but true facts about me) and downloadable author photos.
To request a digital galley, or interview please use this form.