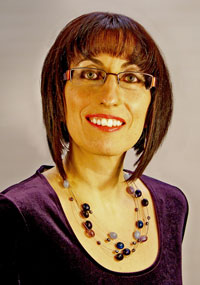 This photograph may be downloaded in four formats:
Color for print
Color for the Web
B&W for print
B&W for the Web
About Science Fiction and Fantasy Author Jill Shultz
Jill Shultz is an award-winning SF/F novelist and science writer. For most of her career, she zigzagged between environmental and arts organizations, including The Nature Conservancy, Mass. Audubon, and Maine Writers & Publishers Alliance, where she was the director of writing programs for four years, supervising nearly 300 writing workshops. She's worked as a writer for eight nonprofits, two state wildlife agencies, and two colleges.
Through stints as a zookeeper, naturalist-teacher, and land steward, Shultz has handled elephants, owls, poisonous snakes, and disgruntled landowners.
Her nonfiction publications include a training manual for wildlife professionals that's still in use after a decade, as well as ancillary materials for college textbooks, fact sheets, radio programs, and wildlife management plans. She earned a B.S. in Biology from Cornell University and a M.S.T. in Environmental Sciences from Antioch University.
An eco-geek through and through, she's deeply committed to conservation, sustainability, and social justice. Hobbies include gardening, hiking, watching wildlife, reading, and cooking. She's a non-snobbish foodie who loves museums and most of the arts.
Ten odd things about me . . .
Although my novel is about a trapezist, I am petrified of heights.
In my last two jobs, I wrote about pyrotechnics—for fireworks displays and bird control.
I still have a recipe for anteater mush. No, it's made for them.
Once, when paying for groceries, a shrew skull fell out of my pocket onto the conveyor belt. (It was from a forgotten owl pellet.)
I endured "Amazing Grace" played on the bagpipes more often than anyone should have to, especially in one afternoon.
A ruffed lemur tried to undress me in public.
I graduated from an Ivy League and a hippie school. And needed both.
Home has included a barrier island, the Burned-Over District, a town of 1,000 and a city of 7 million.
I was 1/5 of the multimedia artist Leonardo Vandinsky, created for an April Fool's Day art exhibit.
Hardly ever wear makeup but will gleefully goop my face.