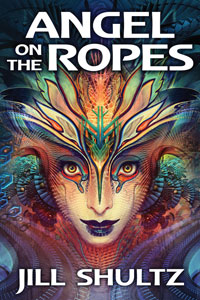 A dazzling trapeze artist leads a double life. Will her secret—and her choices—save her planet? Or ruin it?
Danger in the air thrills Amandine Sand. She's dreamed of flying ever since she could walk. Danger on the ground is something she just has to face. That's because she has a life-threatening secret: she's one of the spotted humans (called "leopards") wrongly accused of being a plague-carrier. Hunted by zealots to protect their offworld colony from the disease.
Despite this threat, Amandine spends her days guiding other leopards to an underground shelter run by the pacifist Seekers. At night, with her own spots hidden, she soars on the trapeze, the one place she feels free and gloriously alive.
When the persecution of leopards explodes into widespread violence, the Seekers demand more of her time as they ramp up their sanctuary effort. But her circus is teetering toward bankruptcy and desperately needs her, too. If it goes under, her career is over. She's grounded forever.
She has no time to breathe... and then she meets a stranger who leaves her breathless—and might just be the biggest risk of all. If her trust is misplaced and she's unmasked, everyone she loves and everything she's fought for could crash.
Read chapter one
Reviews
Interviews
Videos
Buy the book
Learn more
Now she must make an irrevocable leap. Without a net.
To survive, Amandine must draw upon all of her circus and Seeker skills. But can a pacifist defend her violent enemies to stop a civil war? And can this reluctant angel fly beyond her limits to save her life, her love, and her world?
Award-winning science fiction novel with a love story.
Ages: adult.
Stand alone book.
108K (print translation: 287 pgs. in 6x9 paperback).
Find Angel on the Ropes online or in stores
Cornell bookstore (paperback only)
For autographed copies from RiverRead Books (specify paperback or ebook gift card), email